How to become a Hacker | How to become a Hacker in India | How to become an Ethical Hacker | How to become an Ethical Hacker in India
You must have also heard many times about hacking or have seen hackers in some movies or serials, then you must have thought that how to become a hacker? You might want to become a hacker. But, it is not as easy as you think it is and it is not as difficult as you think.
Many people want to become hackers. But they do not have proper understanding and knowledge about how to become a hacker and what has to be done to become a hacker, which course needs to be followed, and what are the various domains whose knowledge is necessary to get into hacking.
Today, in this post, we will try to answer all your questions that you may face if you want to become an ethical hacker. So, read the article carefully with the utmost attention.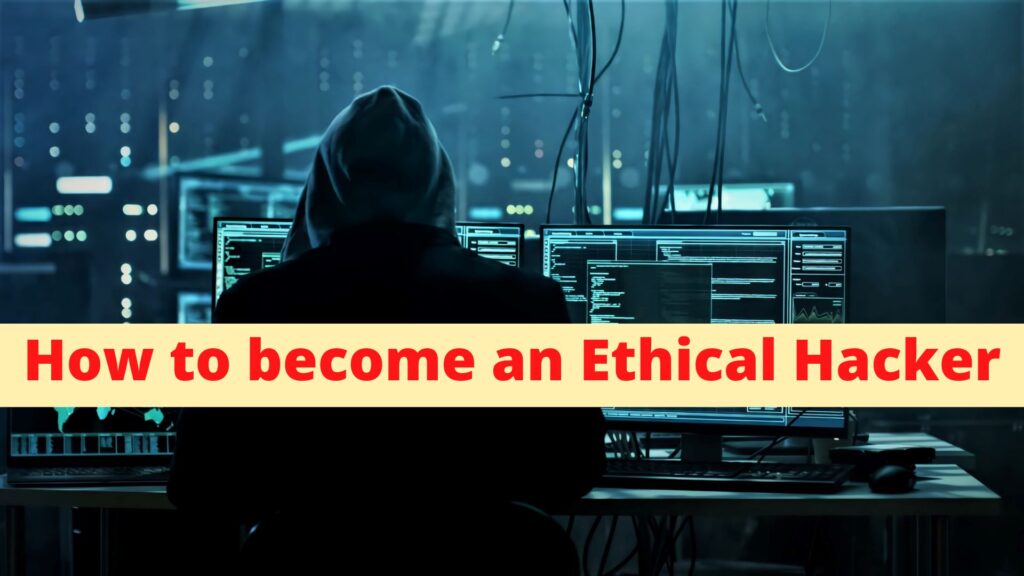 What is Hacking?
Hacking means finding the vulnerability of any computer or network and finding that weakness, entering between that network and computer, and using it for wrong purposes or to earn money is called hacking.
Any computer connected to a network has many vulnerabilities between them. Hacker is basically an expert in finding it because he has knowledge of all programming languages ​​and computers and because of that, he sneaks in and blackmails the person who owns that computer or network. Because hacking is actually done to earn money or to steal data, it is considered illegal. As a result, hacking is a crime in India and you can be punished for hacking.
What is Ethical Hacking?
Hackers who use hacking for good work or for security purposes, this type of hacking is called Ethical Hacking.
Actually, there are three types of hackers
Ethical Hacker(White Hat Hacker)
Black Hat Hacker
Gray Hat Hacker
White-Hat Hackers: Ethical hacker is also called a white hat hacker. Actually, Ethical Hacking is such hacking that is done to protect any person, organization, or anyone. As there are big companies and websites, hackers can attack them, harm them, and may steal their data and information so to protect that they hire ethical hackers so that the company or the site remains secure and its information also remains safe.
Black-Hat Hackers: Black-Hat Hackers are those who perform illegal actions with having such as stealing information to earn money.
Grey-Hat Hackers: Grey-Hat Hackers are called so because they are basically a hybrid of the above two as they do good work as well as wrong things.
Also read How to become a Software Architect
How to become an Ethical Hacker
Before becoming a hacker, keep one thing in mind there is no course or any university to become a hacker or which makes you a very good hacker. You can become a hacker on the basis of your skill and on the basis of your brain knowledge.
1. Learn programming languages.
Any software or mobile application or networking, payment gateway, and whatever works online runs on the programming language itself. If you want to find what is wrong with this software, then it is very important for you to know to program it. To become a hacker, it becomes very important for you to learn programming languages.
Because if you do not have knowledge of programming language or coding then you cannot do anything. Any website runs on the program and is executed through the program. There are many programming languages ​​that are very important to enable hackers to find vulnerabilities and these are:
JavaScript
Python
Java
C/CPP
PHP
Swift
C# C++
Ruby
Objective – C
SQL
2. Take full knowledge of Operating Systems
For Ethical Hacker, it is very important for you to have knowledge of computers because you know that any computer runs on software, and software works in various operating systems which mainly include Windows and Kali Linux. So it is very important for you to have knowledge of operating systems, you are required to learn knowledge of all types of operating systems.
Any program that runs on command, then you should be able to type the command in computer and run it. Actually, Linux works only on command, so it is very important for you to learn Linux operating system and it is also used by Hackers. And apart from this, there are many other operating systems also, it is very important for you to have knowledge from basic to advanced level. Some of them are:
Computer's operating system.
Kali Linux(Linux)
Windows 10 (Microsoft)
Windows XP, 7, 8 (Microsoft)
Mac OS(Apple)
Mobile operating system.
Android (Google)
iOS (Apple)
Other
3. Gain networking knowledge.
If you do not have knowledge of networking then you cannot become a hacker. Knowledge of networking is very important to hack any website. It is not easy to hack without knowledge of networking because some website has different linkage and it is very important to bypass them. For this, you need to have knowledge of all these things:
Networking
TCP/IP (TCP/IP)
Subnet
Topology
Hub
ipv4
ipv6
4. Gain knowledge of databases
Every website has its own database in which it stores user information and website files and through that, you see that website, the file which is in the database, and when you open the website, it appears in front of it.
To hack or to protect/save any website, it is very important for you to have knowledge of the database MySQL and myadmin.php, through this you can also hack the website or save it from happening.
Hierarchical databases
Network databases
relational databases
Object-oriented databases
Graph databases
ER model databases
Document databases
NoSQL databases
Also read How to Become a Blockchain Developer
Best Tips on How to Become a Hacker
1. Always keep learning something new.
If you want to become a hacker then always you have to keep learning something new and keep upgrading yourself because day by day new updates keep coming and people fix the shortcomings in the application software tools, then they should be given to you. You also need to increase your knowledge to find it, never stop learning.
2. Keep on using
If you have tried to hack something new and you hope that it will work, then it is very important to experiment with it. Do not stop experimenting, keep doing new experiments day by day, which will increase your knowledge.
3. Don't give up.
Whatever you want to do but if you are not getting success, then do not give up and keep trying until that thing happens.
How to become an Ethical Hacker FAQ's
Q1: Can I become a hacker?
Yes, if you have knowledge of networking and knowledge of computer and programming language then you can come become a hacker.
Q2: What is a certificate for hackers?
Yes, the exam is taken by this eccouncil.org, whoever passes it gets a Certified Ethical Hacker (CEH).
Q3: What is the salary of a hacker?
The average salary of a certified hacker is between 250000 to 500000 (estimated)
Conclusion
I hope you liked this article and you must have understood how to become a hacker, what is the salary of a hacker and how hacking works, is it a crime in India or not, etc. You must have got the answer to all these questions, if you want to see more such informative posts, then subscribe to our blog and do not forget to share with your friends.