How to crack JEE Advanced | How to crack JEE Advanced in 1 month | How to crack JEE Advanced in 20 days
After the successful completion of JEE Main, JEE Advanced examination will going to be held. The candidates who have scored a good percentile in the JEE Mains exam held so far have started preparing for JEE Advanced.
We all know that the hard work for the whole year is the reason for better results but the hard work in the last days before the exam also matters a lot. Here we are telling you the essential tips to crack JEE Advanced exam that will help you understand how to prepare for jee advanced in 1 month and what should be the proper methods and tips to improve your chances of cracking JEE Advanced with a good rank.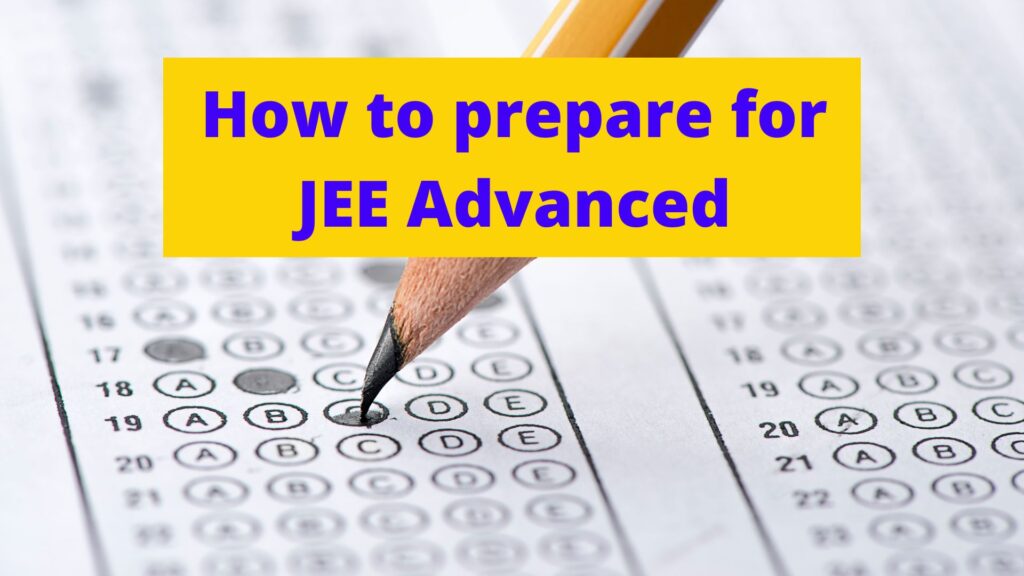 How to prepare for JEE Advanced
Here we will discuss some of the key points that you need to keep in mind while preparing for JEE Advanced. So, let's discuss this step by step.
Time management is very important
Whatever the exam, if you do not prepare for the exam with time management, then success will not be in your hands at all. Therefore, manage the 24 hours of the day in such a way that you can give full time to each topic. According to experts, 5 to 6 hours of serious study in a day is very important for the best score in JEE Advanced.
Focus on Speed ​​and Accuracy
Accuracy with good speed is very important to attempt all the questions in the exam. Candidates should keep in mind that only limited time is given to solve the questions in the exam, so the candidates have to maintain constant speed but also keep accuracy in mind. There is also negative marking in the exam, do not forget it at all.
Solve mock tests
Solving mock tests is very important to strengthen the preparation for JEE Advanced. Solving mock tests gives an idea of ​​the exam pattern to the candidates as well as which fields you are weak in and which topics need more attention. Students should solve mock tests to analyze their preparation. After every mock test, do an analysis for improvement.
Don't start anything new
Do not start the subjects which have not even been touched on in the last few days. Starting a new topic may confuse you. So it is better not to start anything new.
Give full time to revision
There is less than a month left in the exam so candidates are advised to start revising what they have studied so far. Revise every topic and subject. It would be good to prepare from the short notes that you had made.
Note- Apart from all this, the most important thing is to keep yourself healthy and fit when the exam is approaching.
Also, read How to Become a Hacker
Tips To Crack JEE Advanced Physics
Learn Formulas Well: As you revise Physics, note down all the formulas and memorize them well.
Concentrate on Scoring Topics: Once you are done revising your basic chapter, focus on scoring topics like Modern Physics, Wave Optics, Alternating Current, and Sound Waves (specifically Doppler's effect). Pay extra attention to thermodynamics as it is common in physics and chemistry.
Delegate Practice: Solving JEE Advanced previous year question papers is essential. Be focused and confident while solving them.
Tips To Crack JEE Advanced Chemistry
Prepare your preparation systematically: Start revising fundamental concepts from Physics and Inorganic Chemistry. Devote a major part of your time to preparing for organic chemistry. Leave quantitative analysis for the last 5 days as it mainly requires memorization. The mechanisms involved in organic chemistry may seem complicated at first. Do not go too deep into difficult topics as there is time constraints in the last few days. Organic chemistry requires making short notes.
Practice the reaction: Regularly practice the most important topics, equations, mechanisms and related problems.
Regular Revision: Chemistry seems to be confusing for many students. Regular revision of chemistry is essential for better retention.
Tips To Crack JEE Advanced Maths
Conceptual clarity: Revise the basic concepts of all the chapters first. Maths is full of formulas. To master them, practice different applications of the formula.
Give Mock Tests: Giving full-length JEE Advanced mock tests helps in improving your speed and accuracy.
Solve Practice Questions: After revising each chapter, it is necessary to solve JEE Advanced level practice questions.
Solve previous years' question papers: When you are preparing for JEE Advanced Maths, it is a must to practice from JEE Advanced's previous year's tests.
Wrapping Up
Try to work on your silly mistakes as this will improve your overall score.
Taking mock tests and solving previous year's questions online will help you analyze various points.
Prepare a subject-wise formula sheet (Physics-Chemistry-Maths), by doing this you can keep it with you all the time to revise the formula.
Prepare a daily timetable and focus mainly on revision and online tests as these tests help in improving your score by 40-50%.
Take short breaks or listen to music during the study as it increases the concentration power and also keep yourself healthy and fit as the exam approaches.
So, you must have gained the complete strategy on how to crack jee advanced in 1 month and the best tips and tricks for jee advanced. If you liked the article share it with your friends as well.